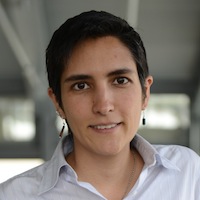 Alejandra Uranga
WISE Gabilan Assistant Professor and Assistant Professor of Aerospace and Mechanical Engineering
Education
2011, Doctoral Degree, Aeronautics and Astronautics, Massachusetts Institute of Technology
2006, Master's Degree, Mechanical Engineering, University of Victoria
2004, Bachelor's Degree, Aerospace Engineering, Florida Institute of Technology
Biography
Dr Alejandra Uranga is currently an Assistant Professor at the USC Department of Aerospace and Mechanical Engineering. Before joining USC in 2016, she was a Postdoctoral Associate (1 years) and then a Research Engineer (4 years) in the Aeronautics and Astronautics Department at MIT. She holds a Bachelor of Science in Aerospace Engineering from Florida Tech, a Master of Applied Sciences in Mechanical Engineering from the University of Victoria, BC, Canada, and a PhD degree in Aeronautics and Astronautics from MIT.




Research Summary
Dr Uranga's research interests are in aerodynamics, novel aircraft design, and integrated propulsion systems, for which she favors a combined computational and experimental approach. Her work aims to help achieve environmentally sustainable aviation. She leads the
Aerodynamic Research and Design Laboratory
at USC.
Appointments
Aerospace and Mechanical Engineering
Office
OHE 500P
Olin Hall of Engineering
3650 McClintock Ave., Los Angeles, CA 90089
USC Mail Code: 1450
Contact Information
(213) 821-0846
auranga@usc.edu
Links