Alejandra Uranga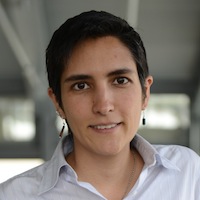 WISE Gabilan Assistant Professor and Assistant Professor of Aerospace and Mechanical Engineering
Education
2011, Doctoral Degree, Aeronautics and Astronautics, Massachusetts Institute of Technology
2006, Master's Degree, Mechanical Engineering, University of Victoria
2004, Bachelor's Degree, Aerospace Engineering, Florida Institute of Technology
Biography
---
Dr Alejandra Uranga is currently an Assistant Professor at the USC Department of Aerospace and Mechanical Engineering. Before joining USC in 2016, she was a Postdoctoral Associate (1 years) and then a Research Engineer (4 years) in the Aeronautics and Astronautics Department at MIT. She holds a Bachelor of Science in Aerospace Engineering from Florida Tech, a Master of Applied Sciences in Mechanical Engineering from the University of Victoria, BC, Canada, and a PhD degree in Aeronautics and Astronautics from MIT.




Research Summary
---
For the past six years, Professor Uranga has been leading the efforts to develop the D8 double-bubble aircraft concept, first as the Technology Lead of a Phase II collaboration between MIT, Aurora Flight Sciences, Pratt & Whitney, and NASA, and currently as the Principal Investigator of Phase III.
This concept employs a wide fuselage and boundary layer ingesting propulsion to provide step improvements in fuel efficiency for commercial transports. She is also currently working on a hybrid-electric aircraft study for NASA.





Her research has been in Computational Fluid Dynamics, specifically the modeling and simulation of turbulence and transition at low Reynolds numbers, as well as in aerodynamics, novel aircraft design, and integrated propulsion systems with boundary layer ingestion.


Appointments
Aerospace and Mechanical Engineering
Office
RRB 218
Robert Glen Rapp Engineering Research Building
854 Downey Way, Los Angeles, CA 90089
USC Mail Code: 1191
Contact Information
(213) 821-0846
auranga@usc.edu
Links