Seminars are held Wednesdays, at 3:30 pm, in person, at Seaver Science Library, Room 202 (SSL 202) and/or as Zoom webinars. See the individual seminar announcements for details.
Control Theoretic Applications for Biomedical Therapeutics
Michaëlle N. Mayalu
Assistant Professor
Department of Mechanical Engineering
Stanford University
Stanford, CA
The body uses feedback control strategies at intermolecular, intercellular and interorgan levels to maintain health and fight disease. Using mathematical models to understand and predict these control strategies gives insight into a wide array of biomedical applications ranging from engineered cell-based therapies to diet-based modulation of brain function.
For engineered cell-based therapies, cooperative feedback control of cell population density is an integral part in many genetic designs. In this multicellular coordination problem, control action takes place on two levels: i) individual cells can activate or repress relevant genes, ii) cells can access the ensemble state of the entire population as obtained through diffusible signaling molecules. These genetically altered cells can provide new and improved functionalities and act as "smart therapies" to make decisions based on intercellular communication and the environment. However, previous population controller genetic designs are not robust to mutational invasions.
For diet-based modulation of brain function, diet can initiate multiple interorgan feedback control systems that effect brain signaling and contribute to cognitive performance. Specifically, diet-mediated gut microbial signals influence nervous, immune, and bloodstream pathways which connect to memory function within the brain. It is desired to use diet to modulate gut microbiota as a novel therapy for maintaining cognitive performance. However, relationships between diet, changes in gut microbiota, activation of interorgan pathways, and alterations in brain signaling are not well understood.
In this talk I present mathematical frameworks from an integrated control theoretic, computational biology and healthcare perspective that: i) characterize genetic designs for robust feedback control of cell population and ii) elucidate the connections between diet and cognitive performance. These modeling frameworks share the underlying structure where communication between agents contribute to the prediction of a collective response. In healthcare contexts, this allows for better understanding and manipulation of the connection between therapeutic targets and dominant patterns within the biological process. Using these models, we further analyze internal mechanisms, performance properties, and derive general design principles and functional relationships in the context of the aforementioned biomedical therapies.
Michaëlle N. Mayalu is an Assistant Professor of Mechanical Engineering. She received her Ph.D., M.S., and B.S., degrees in Mechanical Engineering at the Massachusetts Institute of Technology. She was a postdoctoral scholar at the California Institute of Technology in the Computing and Mathematical Sciences Department. She was a 2017 California Alliance Postdoctoral Fellowship Program recipient and a 2019 Burroughs Wellcome Fund Postdoctoral Enrichment Program award recipient.
Dr. Michaëlle N. Mayalu's area of expertise is in mathematical modeling and control theory of synthetic biological and biomedical systems. She is interested in the development of control theoretic tools for understanding, controlling, and predicting biological function at the molecular, cellular, and organismal levels to optimize therapeutic intervention.
She is the director of the Mayalu Lab whose research objective is to investigate how to optimize biomedical therapeutic designs using theoretical and computational approaches coupled with experiments. Initial project concepts include: i) theoretical and experimental design of bacterial "microrobots" for preemptive and targeted therapeutic intervention, ii) system-level multi-scale modeling of gut associated skin disorders for virtual evaluation and optimization of therapy, iii) theoretical and experimental design of "microrobotic" swarms of engineered bacteria with sophisticated centralized and decentralized control schemes to explore possible mechanisms of pattern formation. The experimental projects in the Mayalu Lab utilize established techniques borrowed from the field of synthetic biology to develop synthetic genetic circuits in E. coli to make bacterial "microrobots". Ultimately the Mayalu Lab aims to develop accurate and efficient modeling frameworks that incorporate computation, dynamical systems, and control theory that will become more widespread and impactful in the design of electro-mechanical and biological therapeutic machines.
Website: https://mayalulab22.sites.stanford.edu/
Wednesday, August 24, 2022
3:30 PM
Seaver Science Library, Room 202 (SSL 202)
A Zoom invitation to this seminar will also be posted here.


host: Nguyen
Macroscopic Forcing Method: A Computational Method for Evaluation of Turbulence Closure Operators Ali Mani
Associate Professor
Department of Mechanical Engineering
Stanford University
Stanford, CA
This study presents a numerical procedure, which we call the macroscopic forcing method (MFM), which reveals the differential operators acting upon the mean fields of quantities transported by underlying fluctuating flows. Specifically, MFM can reveal differential operators associated with turbulent transport of scalars and momentum. We present this methodology by considering canonical problems with increasing complexity. For spatially homogeneous and statistically stationary systems, we observe that eddy diffusivity can be approximated by an operator of the form D/√(1-l2∇2), where l is the mixing length, which in turbulent flows is on the order of the large-eddy size and D is the Boussinesq limit eddy diffusivity. We show a cost-effective generalization of MFM for analysis of non-homogeneous and wall-bounded flows, where eddy diffusivity is found to be a non-local and non-isotropic operator acting on the macroscopic gradient of transported quantities. Towards the end of this talk, application of MFM on a canonical separated flow will be presented where the tensorial eddy viscosity is quantified, and its anisotropy is shown to be the key missing piece in RANS predictions.
Ali Mani is an associate professor of Mechanical Engineering at Stanford University. He is a faculty affiliate of the Center for Turbulence Research and a member of Institute for Computational and Mathematical Engineering at Stanford. He received his PhD in Mechanical Engineering from Stanford in 2009. Prior to joining the faculty in 2011, he was a senior postdoctoral associate at Massachusetts Institute of Technology in the Department of Chemical Engineering. His research group builds and utilizes large-scale high-fidelity numerical simulations, as well as methods of applied mathematics, to develop quantitative understanding of transport processes that involve strong coupling with fluid flow and commonly involve turbulence or chaos. His teaching includes the undergraduate engineering math classes and graduate courses on fluid mechanics and numerical analysis. He is the recipient of an Office of Naval Research Young Investigator Award (2015), NSF Career Award (2016), and Tau Beta Pi Teaching Honor Roll (2019).
Wednesday, August 31, 2022
3:30 PM
Seaver Science Library, Room 202 (SSL 202)
host: Domaradzki
Advances in Exhaled Breath Metabolomics Analysis and Diagnostics
Cristina Davis
Professor
and
Associate Vice Chancellor for Interdisciplinary Research and Strategic Initiatives
Mechanical and Aerospace Engineering
University of California, Davis
Davis, CA
There is an entire field of research dedicated to the chemical analysis of exhaled breath, and the enticing promise of non-invasive medical diagnostics and monitoring. Biomarker detection and identification in breath rests on appropriate sampling and analysis protocols, which are now well established. There is compelling evidence breath chemicals change over time in response to illness and overall health and exposures. Exhaled breath is comprised of both breath gas vapors (CO2, NO, volatile organic compounds) and small diameter breath aerosols (with proteins, peptides, drugs and large metabolites frequently observed in blood). We have advanced controlled breath sampling systems for exhaled breath vapors (EBV) and exhaled breath condensate (EBC) which samples both the gas and aerosol breath fractions. We have also developed mass spectrometry-based analysis methodologies and directly compare metabolite coverage in EBC to guide sampling and methodology choices. We have used this approach to measure large molecules in EBC that are physiologically relevant (e.g. drugs and inflammatory biomarkers), and we have developed devices appropriate to use in clinical settings.
Cristina Davis Cristina Davis is a Professor of Mechanical and Aerospace Engineering at the University of California, Davis (Davis, CA). Her research group focuses on creating miniature analytical sensor systems for mobile chemical detection platforms and human performance monitoring. Final system integration of her devices yields analyzers that are specifically tailored for various high impact application areas including biomedical monitoring and surveillance for precision medicine.
Prof. Davis earned her BS degree (1994) at Duke University with a double major in mathematics and biology. She went on to complete her MS (1996) and PhD (1999) in biomedical engineering at the University of Virginia focusing on novel biosensor research. She then worked on silicon-chip based biosensors during a postdoctoral fellowship at The Johns Hopkins University. She then worked in industry in Switzerland and then to become a Principal Member of the Technical Staff and the founding Group Leader of Bioengineering at The Charles Stark Draper Laboratory (Cambridge, MA) Having spent almost a half-decade in the national labs and industry, she returned to academia in November 2005.
She served as a Member of the Scientific Advisory Board (SAB) for the United States Air Force (2014-2018), and is a Fellow of the American Institute for Medical and Biological Engineering (AIMBE), the American Association for the Advancement of Science (AAAS) and National Academy of Inventors (NAI). She has been a Co-Founder and Scientific Advisor to three start-ups based on her research.
Wednesday, September 7, 2022
3:30 PM
host: Ronney
Adaptive Scale-Similar Closure: Toward the Most General Stabilized Subgrid Model for Multi-Physics LES
Werner J.A. Dahm
ASU Foundation Professor of Aerospace and Mechanical Engineering
School for Engineering of Matter, Transport and Energy
Arizona State University
Tempe, AZ
This seminar presents an adaptive scale-similar closure approach that can dynamically represent any subgrid term accurately and stably even at the smallest resolved scales of a simulation. The approach is based on scale similarity and generalized representations from the complete and minimal tensor representation theory of Smith (1971). At each point, the local tensor polynomial coefficients adapt to the local turbulence state via system identification at a test-filter scale and rescaling to the LES-scale. The methodology is demonstrated by applying it to the subgrid stress and subgrid scalar flux. Resulting fields for the subgrid terms and production rates are nearly indistinguishable from corresponding true fields, and are far more accurate than traditional subgrid models. Stability is ensured by a physics-based rational Boolean stabilization method, which uses the local subgrid production and subgrid redistribution rates to determine how individual subgrid components must be rescaled to provide local backward-transfer reduction or forward-transfer amplification. This produces only very small changes in the highly accurate fields for the subgrid terms and production rates that result from this new closure methodology. Together, adaptive scale-similar closure and rational Boolean stabilization essentially solve two key problems that have previously limited the accuracy of multi-physics large eddy simulations.
Werner J.A. Dahm is Professor Emeritus of Aerospace Engineering at the University of Michigan, where he was on the faculty for 25 years, and since 2010 has been the ASU Foundation Professor of Mechanical and Aerospace Engineering at Arizona State University. Previously he served in the Pentagon as the Chief Scientist of the U.S. Air Force, and in numerous senior technical advisory roles, including on the Air Force Scientific Advisory Board since 2005 and as Chair of the Board from 2014-2017. He is an AIAA Fellow, an APS Fellow, and recipient of the Air Force Decoration for Exceptional Civilian Service and the Secretary of the Air Force Distinguished Public Service Award.
Wednesday, September 14, 2022
3:30 PM
Seaver Science Library, Room 202 (SSL 202)
host: Ronney
Wall-Models for Large-Eddy Simulations of Turbulent Flows via Scientific Multi-Agent Reinforcement Learning
H. Jane Bae
Assistant Professor
Graduate Aerospace Laboratories
California Institute of Technology
Pasadena, CA
The predictive capabilities of turbulent flow simulations, critical for aerodynamic design and weather prediction, hinge on the choice of turbulence models. The abundance of data from experiments and simulations and the advent of machine learning have provided a boost to turbulence modeling efforts. However, simulations of turbulent flows remain hindered by the inability of heuristics and supervised learning to model the near-wall dynamics. We address this challenge by introducing scientific multi-agent reinforcement learning (SciMARL) for the discovery of wall models for large-eddy simulations (LES). In SciMARL, discretization points act also as cooperating agents that learn to supply the LES closure model. The agents self-learn using limited data and generalize to higher Reynolds numbers in reproducing key flow quantities. We test the discovered wall model to canonical flat plate boundary layers, which shows good predictable capabilities outside the Reynolds numbers used to train the model. We will discuss extensions to this model for flows with pressure-gradient effects.
Jane Bae is an Assistant Professor of Aerospace at the Graduate Aerospace Laboratories at Caltech. She received her Ph.D. in Computational and Mathematical Engineering from Stanford University in 2018. She was a postdoctoral fellow in the Graduate Aerospace Laboratories at Caltech and the Institute for Applied Computational Science at Harvard University before joining the Caltech faculty. Her main research focuses on computational fluid mechanics, in particular on modeling and control of wall-bounded turbulence.
Wednesday, September 21, 2022
3:30 PM
Seaver Science Library, Room 202 (SSL 202)
host: Bermejo-Moreno
Multimaterial Additive Manufacturing toward Shape Changing Functional Devices and 4D Printing
H. Jerry Qi
Professor
School of Mechanical Engineering
Georgia Institute of Technology
Atlanta, GA
3D printing (additive manufacturing) where materials are deposited in a layer-by-layer manner to form a 3D solid has seen significant advances in the recent decades. 3D printing has the advantage in creating a part with complex geometry from a digit file, making them an idea candidate for making architected materials. Multimaterial 3D printing is an emerging field in recent years in additive manufacturing. It offers the advantage of placement of materials with different properties in the 3D space with high resolution, or controllable heterogeneity. In this talk, we present our recent progress in developing multimaterial additive manufacturing methods. In the first approach, we present a new development of a novel multi-material multi-method (m4) 3D printing where we integrate four types of additive manufacturing methods and two complementary methods into one platform. In the second approach, we recently developed a novel grayscale digit light processing (DLP) 3D printing method where we can print a part with gradient material properties. We further explore on how to use multimaterial 3D printing to fabricate architected materials and demonstrate their advantage, including direct 4D printing of 2D lattice structures, lattice structures with changing shape driven by liquid crystal elastomers, and 3D lattice structures by gradient materials.
H. Jerry Qi is a professor in the School of Mechanical Engineering at Georgia Institute of Technology and is the site director of NSF IUCRC on Science of Heterogeneous Additive Printing of 3D Materials (SHAP3D). He received his undergraduate and graduate degrees from Tsinghua University and a ScD degree from MIT. After one-year postdoc at MIT, he joined University of Colorado Boulder as an assistant professor and moved to Georgia Tech in 2014. Prof. Qi's research is in the broad field of nonlinear mechanics of polymeric materials and focuses on developing fundamental understanding of multi-field properties of soft active materials through experimentation and constitutive modeling then applying these understandings to application designs. He and his collaborators have been working on a range of soft active materials, including shape memory polymers, shape memory elastomeric composites, light activated polymers, covalent adaptable network polymers, for their interesting behaviors such as shape memory, light actuation, surface patterning, surface welding, healing, and reprocessing. In recent years, he has been working on investigating integrating active materials with 3D printing. He and his collaborators pioneered the 4D printing concept. Prof. Qi is a recipient of NSF CAREER award (2007) and was elected to an ASME Fellow in 2015.
Wednesday, September 28, 2022
3:30 PM
Seaver Science Library, Room 202 (SSL 202)
host: Chen
What Makes Turbulence Tick?
Beverley J. McKeon
Theodore von Karman Professor of Aeronautics
GALCIT
California Institute of Technology
Pasadena, CA
In this lecture, I will utilize the classical approaches and tools of the modern day – theoretical analysis and data-driven methods, respectively – together with novel laboratory experiments to illuminate key features of nonlinear interactions in the Navier-Stokes equations. Focusing on a spatio-temporal representation of turbulence near walls – an omnipresent phenomenon in large-scale transport and transportation - interscale interactions are identified and quantified, then reduced to key elements responsible for sustaining turbulence. Methods to obtain data-driven representations of both linear and nonlinear dynamics will be discussed, along with some implications for the modeling of wall turbulence. The work has benefited from funding by the US ONR and AFOSR over a period of years, which is gratefully acknowledged.
Beverley J. McKeon is the Theodore von Karman Professor of Aeronautics at the Graduate Aerospace Laboratories at Caltech (GALCIT) and former Deputy Chair of the Division of Engineering & Applied Science. Effective January 2023, she will be a Professor of Mechanical Engineering at Stanford University. She received her B.A., M.A. and M.Eng. from the University of Cambridge in the United Kingdom, and an M.A. and Ph.D. in Mechanical and Aerospace Engineering from Princeton University under the supervision of Lex Smits. She completed postdoctoral research and a Royal Society Dorothy Hodgkin Fellowship at Imperial College London before arriving at Caltech in 2006. Her research interests include interdisciplinary approaches to manipulation of boundary layer flows using morphing surfaces, fundamental investigations of wall turbulence and the influence of the wall at high Reynolds number, the development of resolvent analysis for modeling turbulent flows, and assimilation of experimental data for efficient low-order flow modeling. Prof. McKeon is a Fellow of the APS and the AIAA and the recipient of a Vannevar Bush Faculty Fellowship from the DoD in 2017, the Presidential Early Career Award (PECASE) in 2009 and an NSF CAREER Award in 2008 as well as Caltech's Shair Program Diversity Award, Graduate Student Council Excellence in Mentoring Award and Northrop Grumman Prize for Excellence in Teaching. She currently serves as co-Lead Editor of Physical Review Fluids, as Physical Sciences co-captain on the National Academies Decadal Survey on Biological and Physical Sciences Research in Space 2023-32, and on the editorial board of the Annual Review of Fluid Mechanics, and is a past editor-in-chief of Experimental Thermal and Fluid Science. She is the current Chair, and APS representative, of the US National Committee on Theoretical and Applied Mechanics.
Wednesday, October 5, 2022
3:30 PM
Seaver Science Library, Room 202 (SSL 202)
host: Bermejo-Moreno
Sensing and Monitoring using Nanocomposite Sensors and Hybrid Copper Conductive Inks
Simon S. Park
Professor
Micro Engineering Dynamics and Automation Laboratory (MEDAL)
Dept. of Mechanical & Manufacturing Engineering
University of Calgary
Alberta, Canada
Highly accurate, miniaturized components that consist of a variety of materials will play key roles in the future development of a broad spectrum of products, such as wearable devices, lab-on-chips, subminiature actuators and sensors. With the advent of the Internet of Things (IoTs) and Industrie 4.0, the development of miniature and reliable devices will be far-reaching in the enhancement of quality of life and economic growth.
Smart polymeric nanocomposites are promising new materials applicable as media for nano-patterned surfaces. Much attention is being paid to carbon-based nanoparticles as fillers in polymer matrices, due to their outstanding mechanical, electrical and thermal properties. In particular, carbon nanotubes (CNTs) and graphenes are effective in the fabrication of electrically and thermally conductive polymer composites compared to metallic particles or carbon black, mainly due to their high aspect ratios (i.e. ~100-1000).
The sensors consisted of polymer reinforced with multi-walled carbon nanotubes (MWCNTs)/graphenes using a variety of manufacturing techniques. The sensors were electrically poled to generate piezoelectric phases. Both the piezoresistive and piezoelectric characteristics of the nanocomposite were utilized for improved performance of the sensors.
Another important aspect is cost effective manufacturing of conductive electrode patterns onto flexible substrates is vital for multifunctional and flexible systems. Conventional chemical etching, vacuum deposition and electrodeless plating are expensive and potentially hazardous to flexible substrates. Others have used metallic nanoparticle inks, such as silver nanoparticles, through inkjet printing, but the high cost of silver nanoparticles prevents mass production. We have recently developed a simple method to prepare hybrid copper-silver conductive tracks through flash light sintering. We demonstrate some of examples of the sensors and hybrid copper electrodes developments.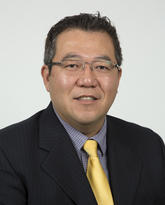 Currently Simon S. Park is a professor at the Schulich School of Engineering, Dept. of Mechanical and Manufacturing Engineering, University of Calgary. He is a professional engineer in Alberta, and is an associate member of CIRP (Int. Academy of Production Engineers) from Canada. Dr. Park received bachelor and master's degrees from the University of Toronto, Canada. He then continued his PhD at the University of British Columbia, Canada. He has worked in several companies including IBM manufacturing where he was a procurement engineer for printed circuit boards and Mass Prototyping Inc. dealing with rapid prototyping systems. In 2004, Dr. Park formed the Micro Engineering, Dynamics, and Automation Laboratory (MEDAL, www.ucalgary.ca/medal) to investigate the synergistic integration of both subtractive and additive processes that uniquely provide productivity, flexibility and accuracy to the processing of complex components. His research interests include micro machining, nano engineering, CNT nanocomposites, and alternative energy applications. He has also founded several start-up companies in sensing and oil extractions. He held a strategic chair position in AITF Sensing and monitoring. He is also an associate editor of the Journal of Manufacturing Processes, SME (Elsevier) and International Journal of Precision Engineering and Manufacturing-Green Technology (Springer). Currently, he is directly supervising 40 students and scholars.
Wednesday, October 19, 2022
3:30 PM
Seaver Science Library, Room 202 (SSL 202)
host: Chen
Published on August 2nd, 2017
Last updated on October 4th, 2022