Jorge Castilla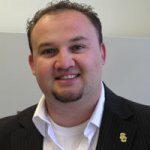 Business Manager
Office: OHE 400C
Tel. (213) 740-5324
Fax. (213) 740-8071
Email: castilla@usc.edu
Jorge Castilla joined the Aerospace and Mechanical Engineering Department in January of 2009 as the Department Business Manager. Prior to 2009, he was the Payroll/Personnel Analyst at the Viterbi Business Affairs Office and the Administrative Services Coordinator at the Integrated Media Systems Center (IMSC). At the Aerospace and Mechanical Engineering Department, Jorge oversees faculty affairs, student affairs, and the daily financial operations of the department. He holds a Bachelor's degree in Psychology from USC and a master's degree in Public Administration from Cal State University Dominguez Hills. When he is not keeping busy helping the faculty, staff and students make AME one of the best academic programs in the Viterbi School of Engineering and at USC, you can find him traveling to different parts of the world and attending live concerts and sporting events.
Student Services
Chrissy Franks Sayed
Director, AME Student Affairs
Office: OHE 500F
Tel. (213) 740-5353
Fax. (213) 740-8071
Email: cfranks@usc.edu
Chrissy Franks Sayed oversees the student affairs office in the Department of Aerospace and Mechanical Engineering. AME Student Affairs serves approximately 1,000 undergraduate, master's and Ph.D. students and coordinates projects and events including Ph.D. admission, new student orientation, retention efforts and reporting, academic advisement and degree progress, course enrollment management, class scheduling and curriculum proposals.
Chrissy earned her M.Ed. in educational counseling from the USC Rossier School of Education and has over 14 years of experience working in higher education and non-profit organizations. In her free time, Chrissy enjoys hiking, swimming and spending time with her family and two dogs.
---
Research Administrators
Instructional Lab Technicians
Center for Advanced Manufacturing Staff
Research Engineer
Administrative Assistant
Administrative Assistant